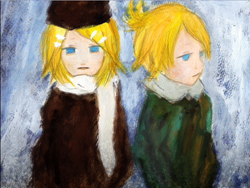 Song title
Original title:【鏡音リン】イレイザー【オリジナル】


Romaji: Ireizaa
English: Eraser
Singer
Kagamine Rin・Kagamine Len
Producer(s)
Psycho Puzzle (music: numtack05, lyrics: Uchuu Denpa Jushin-P)


illust: akino, Uchuu Denpa Jushin-P
NND / YT Links
Nico Nico Douga broadcast / Youtube broadcast
A song concerning Irina and her comrade; within the song, a girl that is likely Irina discusses the "Eraser" and a "Copier".
ご長寿なんで
イレイサー
イバラノ道ヲ
イレイサー

掃除人だぜ
イレイザーん

ざあざあ雨が消えていく
どこまで消去か
コーピーヤー

コーヒーの渦が
吸い込まれて
貼り付けなさい
コピーヤー
chouju nande
IREISAA
ibarano michi wo
IREISAA

soujin daze
IREIZAAN

zaa zaa ame ga kieteku
doko made shokyou ka
KOOPIIYAA

KOOHII no zu ga
sui komarete
hari tsukenasai
KOPIIYAA

Key Phrases
Edit
Illustration Analysis
Edit
The PV begins with an illustration of an oddly colored creature that resembles a frog or some other stylized creature with black eyes, the background colored in pink and blue. It is unknown what this image is supposed to represent. The next image shows a girl and a boy, resembling Irina and her comrade, who stand side by side. Although Irina is facing the audience, the boy is facing away; she also speaks using red subtitles, unusually as Red Rin is typically the one depicted with them. The final image is of a circular, simplistic creature amidst smudged colors in the background. It is unknown what this is meant to represent.
The song is the first song created by Psycho Puzzle, the circle name for collaborations between Numtack05 and Uchuu Denpa Jushin-P.
Curiosities
Edit
Despite the apparent inclusion of Irina and her comrade in the video, it is unclear if the song has any relation at all to the Putin-P series.
Similarly, it is unclear if the figures are really Irina and her comrade or the data programs of them.