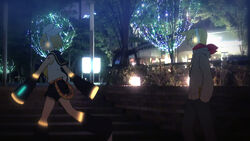 Song title
Original title:【鏡音レン】きみのひとみに。【オリジナルPV付き】


Romaji: Kimi no Hitomi ni.
English: In Your Eyes.
Singer
Kagamine Len
Producer(s)
numtack05 (music, lyrics)


Shiuka (illust, video)
NND / YT Links
Nicovideo broadcast / YouTube broadcast (with subtitles)
Walking through Tokyo after the results of "Goodbye to You★", Len quietly follows behind a blank slate version of Kagamine Rin and thinks on how he can't return her to the way she was. He recalls how he woke to find himself alone with the empty Rin and Hatsune Miku still sleeping, likely forever. Wishing things would go back to the way they were, Len cries as he thinks about all Rin meant to him and all they went through. As he reflects, however, he resolves to become strong and live up to her ideal; chasing to catch up with the blank Rin, he pulls her in a hug and finally tells her he loves her, much to her confusion.
During the end credits song, Farewell!, Teppannov attempts to assassinate Vladimir Putin and is himself killed. Following the end credits sequence, the blank slate Rin becomes Red Rin while she hugs Len and makes the Akanbe gesture at the camera.
全てが終った様に 抜け落ちた町並み
からっぽの君に ただ美しく嘲笑うのさ
俺の前を進んで 見たこと無い景色
無表情で歩いてる こころは震えず

何をしても 彼女のこころは
戻らない 分かっているのに
なぜか諦められないよ
ひとりにしないで

ショーが終った時には
独りになっていたんだ
初音ミクは眠ったまま
何もなかったのか…

いつもそうだ 俺はしらないよ
誰かに導かれるまま
それが悔しかったけれど
今とてもつらい

あーあ
戻りたい ただ それだけだよ
他に何もないよ
くるしい

いま 君がいたなら
殴られるな、、
「残ったのは負け犬だけ」

いつだって
いつだって
君は強く

いつだって
いつだって
輝いて

いつまでも
いつまでも
俺は勝てず

いつだって
いつだって
特別

強くなりたいな
過去を知らない他人を
振り向かせるくらい
君がしたみたいに

SO!
これからの俺はね
君の理想になる
そこに君がいない
それでもいい、見えてきた
またあえたら★

いま胸の中、君を捜してる
こころのこえ聞いて
震えた

もし君が見えたら
伝えるんだ
きえないひとみで「ありがとう!」

この早さなら
言えるよ
「 あいしてる 」と

subete ga owatta youni nukeochita machinami
karappo no kimi ni tada utsukushiku azawarau no sa
ore no mae wo susunde mitakotonai keshiki
muhyoujou de aruiteru kokoro wa furuezu

nani wo shitemo kanojo no kokoro wa
modoranai wakatteiru no ni
nazeka akiramerarenai yo
hitori ni shinaide
show ga owatta toki ni wa
hitori ni natteitanda
hatsune miku wa nemutta mama
nanimo nakatta no ka

itsumo souda ore wa shiranai yo
dareka ni michibikareru mama
sore ga kuyashikatta keredo
ima totemo tsurai

aaa
modoritai tada sore dake da yo
hoka ni nanimo nai yo
kurushii
ima kimi ga ita nara
nagurareru na,,
nokotta no wa makeinu dake

itsudatte
itsudatte
kimi wa tsuyoku

itsudatte
itsudatte
kagayaite

itsumademo
itsumademo
ore wa katezu

itsudatte
itsudatte
tokubetsu

tsuyoku naritai na
kako wo shiranai tanin wo
furimukaseru kurai
kimi ga shitamitai ni

kore kara no ore wa ne
kimi no risou ni naru
soko ni kimi ga inai
soredemo ii, mietekita
mata aetara

ima mune no naka, kimi wo sagashiteru
kokoro no koe kiite
furueta

moshi kimi ga mietara
tsutaerunda
kienai hitomi de "arigatou"

kono hayasa nara
ieru yo
"aishiteru" to

Like how everything ended, we came out on the streets
An empty you just beautifully mocks me
Proceeding ahead of me, there's scenery like nothing I've seen
Walking expressionless, my heart doesn't tremble

No matter what I do, her heart
Won't return to how it was; although I know this
Somehow I won't give up
Don't leave me alone

When the show was over
I was left alone
While she was sleeping,
Was Hatsune Miku nothing?...

Like it always is, I don't know
Being led by someone
That was annoying, but
Now it's really painful

Aah
I want to go back to how it was, that's all
Besides that there's nothing
It's agony

If you were here now
You'd hit me,,
"The only one left was the dog with his tail between his legs"

Always
Always
You were strong

Always
Always
Shining

No matter what
No matter what
I couldn't win

Always
Always
Special

I want to become strong
There are other people who don't know their past
To where they can turn around
Like what you did

SO!
From now on, I'll
Become your ideal
You're not there
Even so, I've come to see that it's alright
If we meet again★

Now at my chest, searching for you
Listen to the voice of my heart
It trembled

If I could see you
You'd be able to convey it
With the eyes that don't vanish, a "Thank you!"

At this speed
I'd be able to say it
"I love you"

English Translation by Pricechecktranslations
Key Phrases 
Edit
『からっぽの君に ただ美しく嘲笑うのさ』 An empty you just beautifully mocks me
『何をしても 彼女のこころは 戻らない 分かっているのに 』 No matter what I do, her heart/Won't return to how it was; although I know this
『ひとりにしないで 』 Don't leave me alone
『「残ったのは負け犬だけ」』 "The only one left was the dog with his tail between his legs"
『それでもいい、見えてきた』 Even so, I've come to see that it's alright
『またあえたら★』If we meet again★
『きえないひとみで「ありがとう!」』 With the eyes that don't vanish, a "Thank you!"
Illustration Analysis
Edit
The PV is one of the most complex for the series, combining animation over real life footage and moving artwork, similar to The Eyes that Don't Vanish in complexity. The opening shots of the PV show the two Kagamine Vocaloids visiting real-life locations mentioned in earlier songs, such as Studio Alta and Shibuya Station. Horse-racing footage is used briefly to symbolize the Suidoubashi betting station. Oddly, looking closely at Rin's headphones, the right headphone appears to have been repaired, last seen broken in Goodbye to You★.
As Len recalls his memories of Rin, the flashbacks are all reminiscent of moments in the series and their relationship--one with Rin dragging Len away from staring at Miku, one with Rin in her Vocaloid costume with a pink box of chocolate, one with Irina crying out in the snow, one with Rin singing to a live audience in her cat outfit, one with Rin in pigtails in her school uniform, and another with Rin with her shovel under the cherry trees, as major examples. Similarly, the line "If we meet again★" is said over a collection of pictures from every video shown in quick succession.
Len's question of whether or not Hatsune Miku was still "nothing" while she slept references back to her self-given nickname, "the one who is nothing," in "The One Who's Nothing.".
Several locations shot in the beginning of the PV were mentioned in the previous songs:
Curiousities
Edit
The text for "I love you" is missing between the quotations in the actual PV, possibly signifying how Len wasn't ever able to convey this message to Rin despite finally saying it out loud.
The term "makeinu" used in the song literally means a defeated dog with its tail between its legs; while not usually translated literally, the connotation nonetheless has significance for Len, who was a dog in a past life. 
When she is mentioned, Miku is shown in the corner of the screen with pigtails, contradicting her next flashback appearance in the PV with short hair and the fact that she had cut her hair prior to sending herself into the data world.
External Links
Edit
---
Ad blocker interference detected!
Wikia is a free-to-use site that makes money from advertising. We have a modified experience for viewers using ad blockers

Wikia is not accessible if you've made further modifications. Remove the custom ad blocker rule(s) and the page will load as expected.